Just like the three generations that work together under one roof to serve you in Bad Kleinkirchheim's Kirchheimerhof, the hotel is frequently chosen by groups spanning multiple generations. Vacationing guests come together for the moments that matter most. This includes the active grandma from the Lesach Valley, who looks forward to finally seeing her son again who's been living in Vienna – and of course also her grandson, who's making it to our hotel for the first time together with his girlfriend.
We love these occasions that bring together what just seems to belong together. Families appreciate our attention to detail, as we combine the most beautiful scenery with large tables and an all-round feel-good program. We take care of everything, leaving you free to spend 100% of your time just chatting, laughing, feasting, holding hands and cuddling.
We love this special mix of sitting together and sharing fond memories that bring a smile to your face and a sparkle to your eye. Good times among the nearest and dearest. But still having the time and space to break off and do the things that interest you during the day. While some are drawn up to the mountains, the grandson might prefer to show his girlfriend all the secret spots he loved as a child. Parents can retreat to the spa area to unwind and recharge. Without the kids. The adjacent Family Spa lets the little ones romp around while adults looking for some peace and quiet can stay among themselves.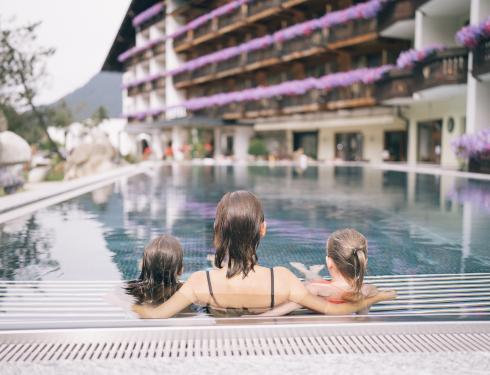 Also, our accommodation options are ideally suited for extended families, multi-generational or blended groups. We offer family and junior suites or individual rooms with convenient connecting doors. Open, close, however you like it. Maybe you are considering the Kirchheimerhof as the comfortable base for your next family reunion, for bringing the generations together. Your base camp for special moments with special people.