About the right time
Those living with nature, who are mindful and curious about how everything is connected, will sooner or later turn their attention to the moon. In Gerald Hinteregger's case, it was Grandma Aloisia who first made him aware of the interaction between life on Earth and the moon.
After years of experience in dealing with the lunar cycles, you develop a feel for when to do things and when not to. This extends to many areas of life. When is the best time to cut hair? When are circumstances conducive for a visit to the dentist? When is it time for the cattle drive? When is the best time to take the Christmas tree out of the forest so that it keeps its needles as long as possible? Agricultural lunar calendars are inexpensive and by no means limited to the esoteric domain.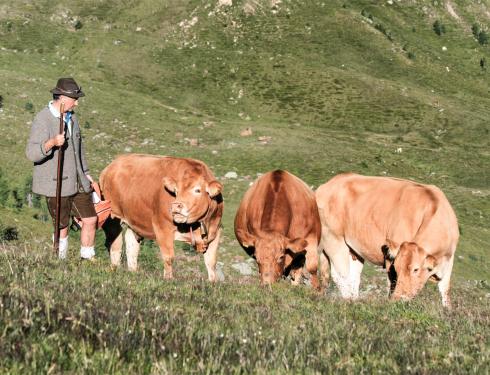 Nature in the light of the moon
Gerald also works according to the lunar calendar. "We'd be well advised to incorporate ancient traditions into our lives and work. It's not about being more right ... we just acknowledge what can take us forward. And we learn from our ancestors." Practical observation: "During a waxing moon phase, people tend to become more aggressive. So we burn incense more frequently or spray Speick essences in certain areas. On busy arrival days, we like to use fragrance lamps to help relax the senses and relieve stress."
For Gerald, the moon has become a hobbyhorse – and more. It starts with very simple things like observing whether the moon is just above or below the earth. For example, Gerald only drives the cattle to the alpine pasture when the moon is waning. "Otherwise, they're wild all summer long. You find the moon's impact on our lives everywhere if you have learned to observe and live with it. We still enjoy browsing through Grandma Aloisia's records of how she aligned her chores with the lunar calendar."